Newsdemon.com Member Benefits
Great Value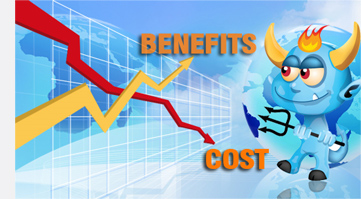 When a message and/or file is posted on to a Newsgroup, it relies on the server to replicate that message to other servers. This replication process can sometimes generate errors and damage to file attachments especially on other providers. With Newsdemon, we offer a 99.9% completion rate which outperforms many others in keeping the messages and files posted on Newsgroups in their integrity.
Uncensored Newsgroups
All of the newsgroups that Newsdemon.com makes available with your access is completely uncensored and offer one of the highest completion and retention rates in the industry. Newsdemon.com offers an abundance of newsgroups. Also, if you don't see it, you can also contact our support department, and we'll add it for you.
Expanded Retention
Retention rate is one of the single most important aspects in choosing the right Usenet provider. That's why Newsdemon.com offers one of the highest retention rates in the industry, and is constantly expanding and growing these numbers.
Cutting Edge Technology
Catering to thousands of users, it's important that the technology that Newsdemon.com uses is both efficient and reliable. Usenet servers are located throughout the world in order to assure redundancy and optimal uptime. Newsdemon.com constantly monitors activity on its servers, prepared to quickly address any issues that may occur
Top Usenet Providers
Newsdemon.com has received accolades from a number of Usenet review sites, often rated in the Top 5 Usenet providers in the world.
Immediate Support
No matter what the situation, our support staff can guide and assist with solutions that fit your specific Usenet needs. From 24/7 support to Email, Newsdemon.com support is the main focus and attention of our company as we know that YOU are the first priority. Unlimited support is available free, regardless of what plan, 7 days a week, 24 hours a day.
Incredible Speed
With server farms throughout the US and EU regions, you can assure that you are accessing Newsgroups with the fastest speeds available to you with Newsdemon.com Usenet servers. These multiple server farms allow you to connect to a server that is closest to your region, allowing you unparalleled speed to your Newsdemon.com Usenet account.
No matter which plan you choose, Newsdemon.com offers a free, feature-rich, award winning newsreader with your subscription. The NewsRover software is also automatically configured to your account as well, allowing you to cut through the set up process and get connected right away.
Enhanced 256 Bit SSL Security
With 256 Bit SSL connection plans available, you can assure yourself of being protected from Identity Theft while accessing the thousands of uncensored newsgroups that Newsdemon.com Usenet access provides.
Member Options
We make it easy and simple to access and manage your usage and plan in the members area. With simplicity, you're able to change your monthly plan, track your usage and manage your details.
99.9% Completion Rates
Newsdemon.com strives to offer the best completion rates on the thousands of newsgroups that it offers access to. Offering 99.9% completion rates, Newsdemon.com works hard to keep that rate steady with constant monitoring and redundancy of its servers.
Competitive Plans
With over 20 plans to choose from, Newsdemon.com has got you covered. Whatever your budget, Newsdemon.com has carefully prepared its plans to offer you the most without hurting your wallet. Newsdemon.com also offers a free 15GB trial in order to try the service and determine what plan fits you best.