Newsdemon.com Member Benefits
Price Match Guarantee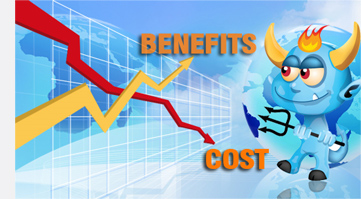 NewsDemon will match any competitor prices. Just click on the Price Match link at the top of the page to find the latest deals we have price matched. If you do not see a deal another provider is offering, let us know and we will add it.
Uncensored Newsgroups
All of the newsgroups that Newsdemon.com makes available with your access is completely uncensored and offers the highest completion and retention rates in the industry. Newsdemon.com offers an abundance of newsgroups. Also, if you don't see it, you can also contact our support department, and we'll add it for you.
Expanded Retention
Retention rate is one of the single most important aspects in choosing the right Usenet provider. That's why Newsdemon.com offers one of the highest retention rates in the industry, and is constantly expanding and growing these numbers.
No Long Term Committments
Many providers require you to commit to a year or longer to receive a good price on a Usenet plan. At NewsDemon we allow you to purchase block plans that are one time purchases. We also offer the industry's guaranteed lowest prices buy clicking on the Price Match link at the top of the page.
Top Usenet Providers
Newsdemon.com has received accolades from a number of Usenet review sites, usually rated in the Top 5 Usenet providers in the world.
Immediate Support
No matter what the situation, our support staff can guide and assist with solutions that fit your specific Usenet needs. From 24/7 support to Email, Newsdemon.com support is the main focus and attention of our company as we know that YOU are the first priority. Unlimited support is available free, regardless of what plan, 7 days a week, 24 hours a day.
Incredible Speed
With server farms throughout the US and EU regions, you can assure that you are accessing Newsgroups with the fastest speeds available to you with Newsdemon.com Usenet servers. These multiple server farms allow you to connect to a server that is closest to your region, allowing you unparalleled speed to your Newsdemon.com Usenet account.
Enhanced 256 Bit SSL Security
With 256 Bit SSL connection plans available, you can assure yourself of being protected from Identity Theft while accessing the thousands of uncensored newsgroups that Newsdemon.com Usenet access provides.
Member Options
We make it easy and simple to access and manage your usage and plan in the members area. With simplicity, you're able to change your monthly plan, track your usage and manage your details.
99.9% Completion Rates
Newsdemon.com strives to offer the best completion rates on the thousands of newsgroups that it offers access to. Offering 99.9% completion rates, Newsdemon.com works hard to keep that rate steady with constant monitoring and redundancy of its servers.